Martin at Mallala
Sunday 23 November 2003
Path > Adelaide to Clare via Virginia Two Wells Mallala Motorsport Park Balaklava Blyth in South Australia


The last few weeks since I arrived back in Australia have been a blur!

I've been catching up with people from all over the place and the ever-reliable town car has been getting a thorough workout as I regularly travel the 130km from the folks place at Clare to various friends around Adelaide.

It seems a little strange to be living so close to the edge; living each day with the question of where I will be sleeping at the end of it certainly keeps me on my toes.

For some people, this seems like a strange concept. I'm ?home' now, but don't have a home. I suppose everything will work out in the next few months?

Friday night had been at Neil's place, having a few beers with some mates. So when the phone call came on Saturday morning that Steve Martin was racing at Mallala, I knew that it wasn't going to be the best.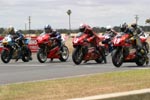 Unfortunately, another mate had already crashed out of the racing by the time I'd arrived at the track, but Mick (the Pom) was OK. His Yamaha R1 had only suffered cosmetic damage and a broke handlebar and footpeg, so even that wasn't so bad.

I'd caught up with Steve Martin and had a chat about a few things. He had been given Craig McMartin's spare 999 Ducati to have a ride and was showing how quick he could adapt to a different model and Dunlop slicks.

Steve was trying to talk me into continuing with World Superbike in 2004, but unfortunately DFX couldn't help me out. It is such a shame as I think that he will be right up there as everyone switches to the compulsory Pirelli tyres that he has been developing?

Without my camera, I could only chat to the guys. This meant that a trip through the back roads to Clare was the order for Saturday night so that I could get some pics on Sunday.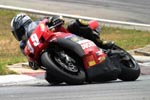 Also back from overseas was David Johnson who has been racing Superstock in the UK. He'd borrowed a mate's GSXR1000 and was instantly up to speed.

I took some pics and interviewed both Steve Martin and David Johnson for mcnews.com.au before packing up and heading back to the folks place at Clare.

It felt like real motorsport work again. I hadn't done this since Magny Cours at the end of October and was finding some big differences with working in Australia!

< previous || next >

< previous
||
next >

Browse the photo gallery from Sunday 23 November 2003