Upgraded!
Sunday 26 October 2003
Path > Walz place to Walz place via Betsham Colyer Arms Fawkham Green Brands Hatch circuit in United Kingdom


The whole frequent flyer points scheme and upgrades program has been a huge hassle this year for me.

Sure, I've been upgraded from economy (or cattle) class to business on a few long hauls, but the uncertainty of the upgrade process continually gets to me. Why can't they just say Yes or No and be done with it?

I'd better explain.

Apart from the benefits of more comfort, better food and service, the best thing about upgrading from cattle to business class is the increase in baggage limit, from 20kg to 30kg. As I'd been in Europe for the best part of six months, that extra ten kilos was going to come in quite handy on the return voyage!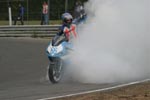 So there you have it. Months of emails bugging my travel agent and the continual logging on to the frequent flyers web site to check for success were over. All it took was 50,000 frequent flyer points and a whole lot of waiting.

I was feeling a lot more relaxed with life since the upgrade had come through, and with Walz buying a new camera, it was time to head to Brands Hatch for the final round of the MRO, which is basically the British Championship classes that don't run with British Superbike rounds.

Walz was keen to try out his new investment. He'd recently upgraded to a Canon 10D digital camera body and was looking forward to faster focussing than his previous body, the D30.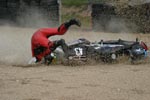 Brands Hatch in late October is not the best place in the world to be. The winds blow a never-ending stream of rain bearing clouds across the sky, so you never really know when you will be in for a soaking.

We had a good day and I reeled off a couple of shots of the action and even caught a decent crash sequence.

(Check the photo gallery for the nine shot sequence.)

Walz was pretty impressed after some initial teething problems and it looks like his quality is ramping up.

I'd better get to work with Paulie and finish walzpics.com for him after a fairly solid delay!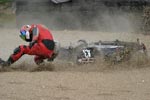 With only a couple of days left in England, there is still so much to do and so many people to see.

Maybe a quiet night of warming up will help?

< previous || next >

< previous
||
next >

Browse the photo gallery from Sunday 26 October 2003