Finishing the job
Sunday 19 October 2003
Path > Magny Cours circuit to Magny Cours circuit via in France


Freezing temperatures didn't encourage an early start, and combined with the few beers after the sidecar party last night, I didn't really feel like getting up.

There was much to do though. I'd made a list of my commitments for the day and it seemed like I'd be needing the scooter a fair bit to get around.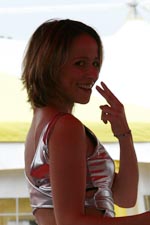 The fog and cold temperatures delayed the start of the morning warm-ups, giving me some breathing space and time to answer some emails before loading up with a couple of lenses and grabbing one of the scooters to begin the day.

My schedule had me taking pics on every grid and action shots from every race except the second Superbikes. Combine this with chasing and finding riders for photos and interviews as well as writing up some reports, selecting the pics and sending emails and I was pretty flat out.

There were times for reflection though. I'd found myself looking back a lot in the last few months, thinking that this was maybe the last time that I would be doing a full season as a journalist and photographer.

Standing on the side of the track, waiting for the right riders to come around again gave me this chance. Despite the cheers of the crowd and the roar of the bikes, I almost found myself meditating as the work got done.

I caught up with Damian Cudlin who was here for a guest ride on a Superstock Ducati. I'd previously caught up with him at some German rounds where he was racing Supersport and it was good to see him again ? especially as today was his birthday!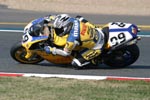 Once the races were over and the podium celebrations out of the way, I only had Steve Martin to catch for a quick interview before he left for Italy and then back to Australia on Tuesday.

I caught him packing up his motorhome and had a chat about things. There was so much to consider and I felt that my situation was a little similar to his. He also wanted to return to Australia, but like me, thought that he still had a little to prove.

The offer from DFX Ducati was on the table and all he had to do was sign it to come back for another season with increased prospects. He has been the lead rider in the development of Pirelli tyres that everyone would be riding next year, so the opportunity for race wins is there, if not the money.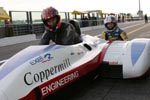 Work finished around about 10pm or so and it was time to find the party. The light drizzle ensured that everyone stayed inside the awning at Klaffi Honda ? a mean feat as riders, mechanics, journalists and photographers squeezed in and tried to find their way to the bar.

I hope it isn't raining for the ride back to England in the morning!

< previous || next >

< previous
||
next >

Browse the photo gallery from Sunday 19 October 2003

Browse the second photo gallery from Sunday 19 October 2003