A Day in K?ln
Sunday 11 August 2002
Path > Bonn to Bonn via Hennef N?mbrecht K?ln the Dom the K?ln bars and restaurants in Germany


After my tiredness yesterday, there was no reason to set an alarm, so I got out of bed after 9am on Sunday morning.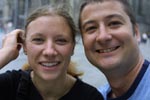 After spending a while organising some things, I announced my plans to head to K?ln on the train. Malcolm mentioned something about a drive that way, so I changed my plans of the train and caught a ride in the car.

The only added extra was a quick visit to the Steinhausen crew at N?mbrecht in the hills.

That wasn't a problem and we headed via Hennef and the winding mountain rounds. It was a nice day for a drive and we enjoyed it, imagining being on bikes through the curves.

We sat and had coffee with Rolf and J?rg, chatting about things before realising the time. It was heading towards 4pm and I hadn't even been to K?ln yet!

We headed across to K?ln and I searched the Lonely Planet guide for a place to eat. Doris directed us straight there (nearly) and we were soon sitting down to lunch, a few hours late.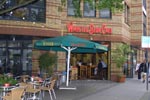 It all happened in a bit of a sudden, but I realised that I had agreed to meet Christine at the Hauptbahnhof at 5:30pm. Things were running a bit late for that as we finished our meal, had the obligatory photo and headed of, again under the direction of Doris.

Christine and I enjoyed wandering around some of the sights of K?ln. We didn't wander too far, but caught up with the Dom, walked along the Rhine River and sampled some bars.

For dinner, we decided on Spanish. I hadn't had Spanish food since the last time we were in Spain and the memories of San Miguel beer was enough to tempt me.

It was nice to sit there on a Sunday night, enjoying the summer and the atmosphere of K?ln. It feels so much different to Bonn ? I don't know why we don't come here more often.

There were a few people about as we wandered from bar to bar. Christine had taken a tour of K?ln a few years back and pointed out some of the sights. More of the statues seemed to bear some significant relationship to Karnival, which is about a week of partying early in the year. K?ln seems to be the centre of it, with seemingly normal people dressing in clown suits and the like and drinking way too much beer.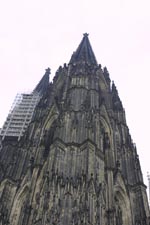 We finished up in one of the many Irish bars. It seemed right that I finish my tour with a pint of Guinness, but I was a little shocked when Christine mentioned that it was time to get the last train back to Bonn.

Maybe it wasn't the last train, but it was only a little before midnight when we said goodbye.

It must have been something about the distance or the city of K?ln, but I actually paid for a ticket for the train before boarding and the ride to Bonn. I made up for it later though, with the semi-familiar trip from the Bonn Hauptbahnhof back to the office...

It had been a good day out. Even though I'd spent some time talking about racing and work, the day ended up with some great conversation in both English and broken German and a quick tour of K?ln.
< previous || next >

< previous
||
next >

Browse the photo gallery from Sunday 11 August 2002