Across Germany Again
Monday 11 June 2001
Path > Cottbus to Bonn via Lausitz Dresden Erfurt Bad Hersfeld Giessen in Germany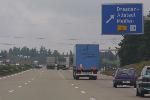 I'm always tired on the Monday after a race meeting for some reason. Today was no different as I dragged myself out of bed and attempted to pack all of my gear.

Most of the camera boxes would have to be left here. I really didn't need them and there was no way to carry them.

We left Cottbus and found the familiar way to the autobahn, heading south to Dresden.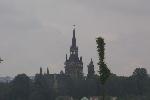 There were a heap of bikes on the road and it was quite an interesting drive.

From Dresden, we turned west, looking for familiar sights from the trip over.

There were no major problems, no traffic jams, just a smooth cruise across Germany at about a hundred mile an hour.

I had considered an offer from one of the teams to drive to San Marino in their team truck, but I had too much work to do in the meantime. The whole look of the site had to be transformed.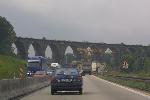 So the plan was to stay in Bonn and work at the Olympia Reisen office for a week or so.

After many hours in the car, we reached the office and I uploaded a couple of the stories that I'd composed in the car and attempted to change the championship points.

After a long weekend of work and a road trip across Germany, simple mathematics was not the easiest to perform with accuracy, and I made mistake after mistake as I tried to recalculate the points.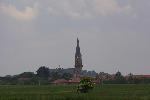 After more than an hour at the office (a planned five minute stop), we were done.

The beers at Gary's place were welcome and I collapsed for the night.

< previous || next >