A Quiet Ride
Thursday 18 January 2001
Path > Norseman to Esperance via Salmon Gums Grass Patch Scadden Gibson in Western Australia


Another night of mozzies buzzing around didn't help my relaxed attitude, but a slow morning helped get things into perspective. Breakfast seemed to take about two hours as we chatted over coffee.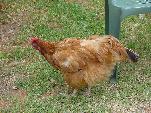 The plan had been to head to Kalgoorlie for a quick tour before returning south and down to Esperance. As I sat organising my thoughts with a cuppa, the trip north in 41 degree heat lost a little of it's appeal. I decided just to head south to Esperance.

Norseman had a public Internet centre, so I checked my mail before refuelling and heading off.

I felt like cruising comfortably along for some reason, and found myself doing the legal limit. It will be interesting to check the mileages after this stretch.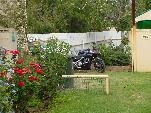 There are a couple of little towns along the way; Salmon Gums, Grass Patch, Scadden and Gibson. Like a lot of very small towns I've passed, they looked like their size was decreasing and they were fading away.

I found Esperance and did half a lap before finding a backpackers.

Deciding to walk around Esperance to pick up a few things was probably not the best idea as the rain came down. I hadn't worried about parking the bike undercover, as I didn't think it would rain, so the lamb's wool seat cover was soaked. It probably needed a wash anyway...

I spent most of the evening organising the photos and typing, to prepare for an upload at an Internet caf?.

As long as the rain stops I should be able to experience the beaches.

< previous || next >