Into Western Australia
Wednesday 17 January 2001
Path > Eucla to Norseman via Mundrabilla Madura Cocklebiddy Caiguna Balladonia in Western Australia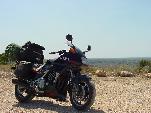 Filling up at Eucla, I was heading to the highway when I saw Dave and family with their bus. I stopped for a chat and thanked him again for helping before riding out to Eucla Pass.

As I rounded the bend, the road dropped away to reveal hundreds of kilometres of plains.

The tailwind helped me cruise along to Mundrabilla for an Iced Coffee, passing a few people along the way.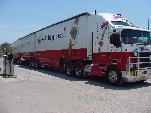 The past few days were taking their toll and I decided to stop at most places along the way.

Madura was the next stop for some fuel and I caught up with some of the cars that I had passed. Just out of Madura, there is the matching view of the plains to Eucla Pass, so I stopped for a photo.

I met a family from Mount Barker and had a long chat about Western Australia while looking at the view.

Another 80 odd kilometres saw Cocklebiddy and it was time for food. As I pulled up I saw a mountain bike and chatted to the rider. Surprisingly, he was not a crazy German or Japanese, but a guy from Perth on his way home.

Caiguna, another 64 kilometres later was the next place for fuel and was where I met a guy from Adelaide on a Goldwing with trailer. He had a thermometer behind the windscreen that he pointed out off the scale (over 50 degrees) - it was hot.

I psyched myself up for the next section, the 90 mile straight, with a litre of water before heading off.

The section between Caiguna and Balladonia is 183 kilometres long and contains 146.6 kilometres of straight road, undulating in altitude by only a few metres. How was I going to keep my concentration?

The wind came from the north for the first 20 kilometres and then switched totally to blast in from the south. I leant the bike over and sat on the side of the seat for about 100 kilometres as the bike was pushed across the road. At least the centre of the rear tyre wasn't squaring off!

Balladonia was welcome relief, and I relaxed and recovered for about three quarters of an hour, chatting to some of the other travellers.

I caught up with the family from Mount Barker again and they offered water and then gave me another frozen water bottle. They couldn't do enough to help and wouldn't take "no" for an answer. He even insisted on wrapping the frozen bottle in newspaper and taping it up with electrical tape for insulation.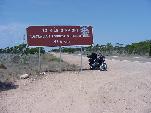 It was a hard 180 kilometres from Balladonia to Norseman, but I put my head down and waved to those I'd chatted to as I passed them.

First stop at Norseman was the pub, where I drank more water than beer. It must have been hot!

Then I found the backpackers (as the caravan park wanted $11) and settled in.

Bill had also driven from Eucla and chosen the same place to stay. We'd crossed paths a few times during the day at various roadhouses, so it was like old friends when we caught up.

There was a couple of drilling contractors and a Canadian, so the night was shaping up.

Visit the Balladonia Hotel Motel web site.
< previous || next >

< previous
||
next >

Browse the photo gallery from Wednesday 17 January 2001