Read the latest from Rob's Travels:
> Tuesday 2 Dec 2003: The Town Car takes a hit - It was just an ordinary late night drive back to Clare when a suicidal roo interrupted my train of thought
> Sunday 23 Nov 2003: Martin at Mallala - Back into racing, north of Adelaide at my local track, Mallala
> Wednesday 29 Oct 2003: Travelling Tips - Learning how to get the best out of the system to make you comfortable is probably the best tip of all
> Tuesday 28 Oct 2003: England to Australia - The trip home begins, but at least I had the relative luxury of business class!
> Sunday 26 Oct 2003: Upgraded! - After weekly check-ins with my travel agent, the upgrade to business class came in the nick of time!
> Monday 20 Oct 2003: The wet road home - Rain, wind, traffic and motorways through France were necessary to return to England
> Sunday 19 Oct 2003: Finishing the job - The final day of the last round of 2003 was out of control. With freezing weather, heaps of photos, interviews and articles it finished with a decent party in the paddock
> Thursday 16 Oct 2003: The perfect lunch - Jazzy and I enjoyed a great French meal in a traditional restaurant as we took some time away from the track

Check the archives for previous entries.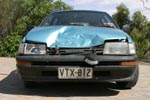 The Town Car after meeting with the roo